Defence Recruitment Solutions
With 20 years' experience representing a range of companies in the UK defence sector - from niche specialist developers to direct Ministry of Defence manufacturers - Employment Solutions provides industry-leading recruitment services to defence and aerospace organisations of all kinds.
We identify and secure professions across the full breadth of the defence and aerospace environment, from engineering, systems and software to procurement and design, to contribute to the performance of defence organisations and militaries in the UK and around the globe.
The temporary, contract and permanent staff that we have placed during the past two decades have contributed to naval air defence systems, advanced missile systems, military bridging systems, satellite technology, nuclear programmes and much more.
Led by the very highest industry standards and the unwavering dedication to quality, we make sure we always do the right thing for the people we work with - whether that's our colleagues, our clients or our candidates.
Find out more about how we can solve your defence industry recruitment needs today. Get in touch by calling 0161 839 5353 or fill in our contact form and we'll get in touch at a time convenient to you.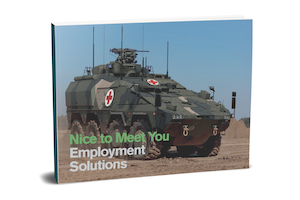 You can view our defence sector brochure here
How we will work with you
The recruitment process for our Defence job roles is simple:
Get in touch
Match with your dedicated Defence recruitment consultant, who understands the demands of your industry as well as the sector talent pool
Discuss your requirements, including time frames, level of experience and any logistics
Review and make your selection from our hand-selected and vetted candidates
Relax as we make the final arrangements
If you'd like to know more about our recruitment expertise within this industry, feel free to speak directly to our Defence recruitment specialists Mark Dorey.
The Defence and Aerospace areas we cover
With vast knowledge of the defence and aerospace industries, we understand the whole range of technical talent required to develop and maintain such complex systems used by the Army, Navy and RAF.
We specialise in defence engineering recruitment for the following areas of this wide-ranging sector:
● Mechanical engineering
● Electronic engineering
● Software engineering
● Project management
● Design engineering
● Procurement and supply chain
● Modelling and simulation
● Risk management
The Defence roles we fill
Below is an overview of the types of jobs for which we provide permanent, temporary and interim staff:
● Mechanical engineers
● Mechanical design engineers and managers
● Electronic engineers
● Manufacturing operatives
● Software engineers and architects
● System engineers
● Modelling & simulation engineers
● Electronics & hardware design engineers
● Trials, validation and verification engineers
● Electrical design engineers
● Requirements managers and engineers
● Safety & reliability engineers
● Human factors design engineers
● Configuration engineers and managers
● ILS Engineers and supportability consultants
● Project and programme managers
● Project planners and schedulers
● Buyers
● Purchasing managers
● Quality Engineers
● Subcontract/Commercial managers and contracts negotiators
● Risk managers and consultants​
Employment Solutions are first class, they make the process of recruiting straightforward as have consistently offered high calibre candidates no matter the job role.
Ready to get in touch?
If you would like to speak to our team of Defence recruitment specialists about how we can help you find the top-tier talent you need, get in touch with us today. Simply enter your details in our contact form or call us on 0161 839 5353.​
Case Studies